Overview :Nature Guide in Ranthambore
A nature guide in Ranthambore plays a crucial role in enhancing your wildlife experience and providing valuable insights into the flora, fauna, and ecosystems of the national park. These knowledgeable guides are passionate about nature and are dedicated to sharing their expertise with visitors. Here's what you can expect from a nature guide in Ranthambore:
1. Expert Knowledge: Nature guides in Ranthambore have in-depth knowledge about the park's diverse wildlife, including its flagship species, the Royal Bengal Tigers. They are well-versed in the behavior, habitat, and patterns of various animals and can provide valuable information about their conservation status and importance in the ecosystem.
2. Tracking and Spotting Wildlife: Ranthambore is known for its tiger sightings, and nature guides are adept at tracking these elusive creatures. They can read the signs of their presence, such as pugmarks, alarm calls of other animals, and territorial markings, to increase your chances of encountering tigers and other wildlife during safaris.
3. Interpretation of Nature: Nature guides excel at interpreting the natural environment. They can identify different species of birds, mammals, reptiles, and plants, and share fascinating facts about their behavior, adaptations, and ecological roles. They provide a deeper understanding of the intricate web of life in Ranthambore.
4. Awareness of Conservation Efforts: Ranthambore National Park is committed to wildlife conservation, and nature guides are well-informed about these initiatives. They can educate visitors about the park's conservation programs, anti-poaching measures, and the importance of preserving natural habitats for the long-term survival of wildlife.
5. Safety and Ethical Practices: Nature guides prioritize visitor safety and adhere to ethical guidelines during safaris. They ensure that visitors maintain a safe distance from wildlife, follow park rules and regulations, and minimize any disturbance to the animals and their habitats. They also promote responsible tourism practices that contribute to the conservation of Ranthambore's delicate ecosystem. By accompanying a nature guide in Ranthambore, you gain a deeper appreciation for the park's natural wonders and contribute to wildlife conservation efforts. Their expertise and passion for the environment enrich your experience, making your wildlife encounters more meaningful and informative.

Shard Kumar Sharma
Ranthambhore National Park
Vipul Jain
Ranthambhore National Park
Hemrj Meena
Ranthambhore National Park
Sunil Kumar Shrivastava
Ranthambhore National Park
Shakir Ali
Ranthambhore National Park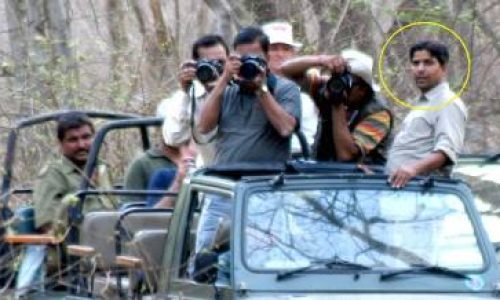 Vishnu Singh Rathode
Ranthambhore National Park
Batti Lal Gurjar
Ranthambhore National Park
Sayed Irshad Ahmed
Ranthambhore National Park
Kanhaiya Lal Sharma
Ranthambhore National Park
Vishambhar Dayal Sharma
Ranthambhore National Park
Ateeq Mohammad
Ranthambhore National Park
Kanhaiya Lal Sharma
Ranthambhore National Park
Danish Parvez
Ranthambhore National Park
Ved Prakash
Ranthambhore National Park
Mukesh Chand Gurjar
Ranthambhore National Park
Kanhaiya Lal Sharma
Ranthambhore National Park
Javed Rafi Khan
Ranthambhore National Park
Pramod Kumar Sharma
Ranthambhore National Park
Farid Khan
Ranthambhore National Park
Kanhaiya Lal Sharma
Ranthambhore National Park